Students Reflect On The Bravery Of Soldiers In WW1 On Visit To The Somme
On Friday 15th June 35 year 8 students and 3 members of staff went to the Somme in France to retrace the footsteps of British and Commonwealth soldiers just over 100 years ago. This trip was made particularly special as several of the students brought details of family members who had died in the Battle of the Somme and subsequent battles in the area and we were able to see the battlefields they fought and died in and where they were laid to rest and remembered.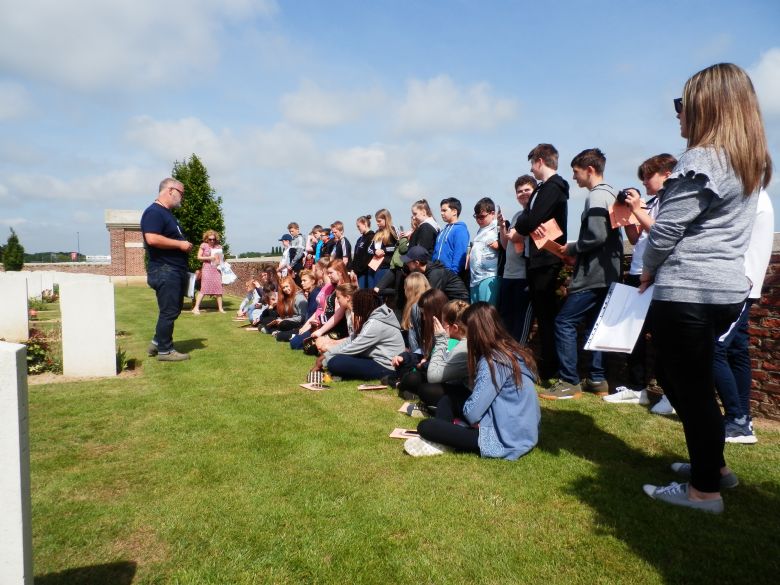 Our first stop was to Monchy cemetery to visit the grave of Private W J Devenish, the great, great uncle of Max Broster who died during World War One. Max and his fellow students were able to reflect on the sacrifice that had been made.
We then went to 'Sunken Lane' where students learned all about the terrain of the Somme and what happened on the morning of 1st July 1916, the first day of the battle. They were able to see the Hawthorn Ridge crater which was exploded at 7.20am on that morning and then recreated 'going over the top' which soldiers did at 7.30 and could understand the ensuing casualties (57,470 on the first day) which led to this day being referred to as 'the bloodiest day in the history of the British Army'.
Students then walked to Newfoundland Memorial Park where they were able to see the craters from artillery shells and walk through the trenches seeing where both the German and Allied front lines were and hear about the devastating stories of the Newfoundland divisions.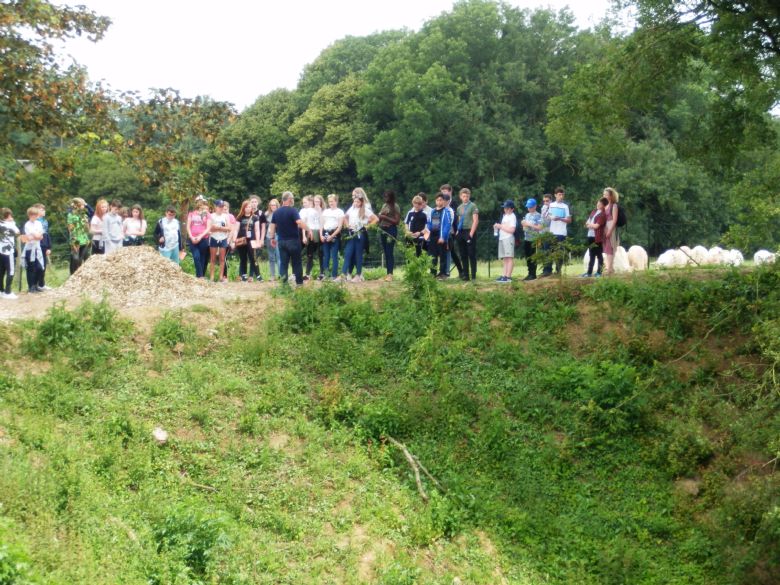 We then went to Ulster Tower where we heard about some of the more successful attacks that took place on the first day of the Somme.
We then visited Caterpillar Valley Cemetery in Longueval where a relative of Sam Lench, Private Bernard Leslie Lench of the Duke of Cornwall's light infantry was buried. He had died on 23 July 1916. Sam was able to place a cross of remembrance at his grave.
On our way to our final stop the coach was able to stop by the side of some fields near Mametz Wood where a battle had taken place. Michael Massey's great, great uncle, Lance Corporal Edward Boney from the 10th Battalion Cameronians died here on 30th August 1916. His body was never found and he is remembered on the Thiepval Memorial. Michael was able to see both where he died and where he is remembered.
Our final stop was to Thiepval Memorial – which is the memorial to the missing in the Somme. Students took part in a moving act of commemoration – with Cameron Chester-Hilbert and Amelia Goodwin reading poems they had written during the day inspired by what they had seen and heard. Joshua Vanns, Jessica Beaney and Michael Massey were chosen to lay a wreath as a mark of respect from our group.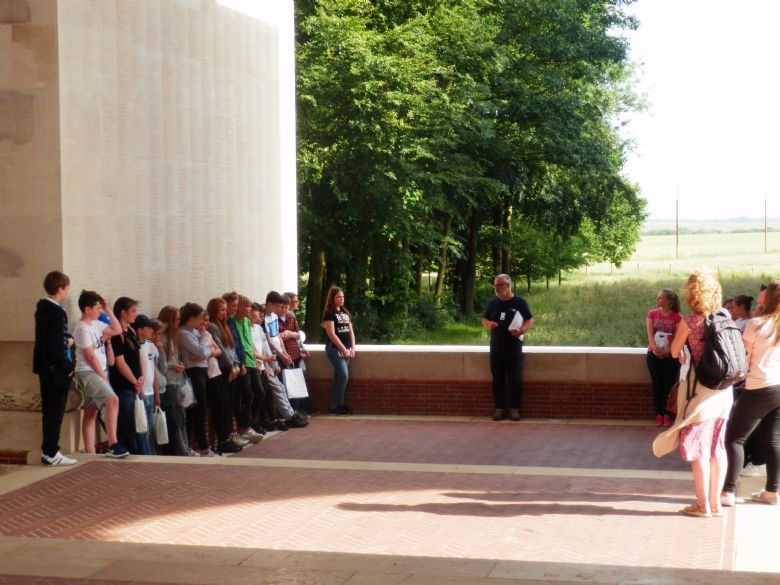 Sam Lench was then able to find the name of his relative Rifleman Frederick Lench from the Rifle Brigade who died on 15 September 1916 and leave a cross of remembrance there.
This marked the end of our trip of remembrance - students stood opposite a name of a soldier who died in the war and focused on them and their family touching their name. They were then told that they were going to do one thing that those soldiers didn't ….go home.
Cameron Chester-Hilbert, 13, was so moved he chose to write a poem;
"Once many soldiers died in World War One and once many families were devastated because of their sacrifice for both England and France. The sad tragedies of these soldiers will always be remembered as in many eyes, like mine, they are known as the heroes in our countries.
World War One was a war like no other. It was a fight for justice and freedom together. So now I want to say thank you to those missed soldiers who died for us and show them how grateful we really are to them. So now let's try and keep the peace that they once earned and remember how lucky we are that those great people were here for our country ready to fight with hope, strength and bravery."