GCSE Results Day - 2020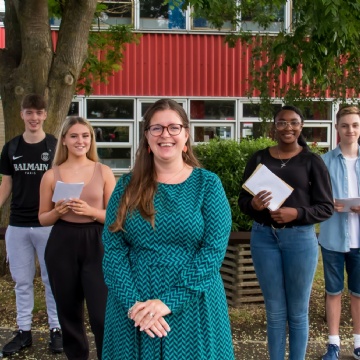 After the national shambles that surrounded A levels last week, and that is continuing to cause problems for many students across the country, it was a relief to everyone at Fulston Manor to be receiving GCSE results that are an accurate reflection of the dedication and ability of our students
After the national shambles that surrounded A levels last week, and that is continuing to cause problems for many students across the country, it was a relief to everyone at Fulston Manor to be receiving GCSE results that are an accurate reflection of the dedication and ability of our students. However, it was extremely disappointing that students had to suffer yet further anxiety and confusion in relation to their BTEC grades. Following a last minute decision yesterday from the awarding body, Pearson, there has been a delay in releasing all BTEC grades and we are anticipating further changes to those released last week for Level 3, we have been reassured that no BTEC grades will be lower than those already issued last week. The staff in school will continue to support students as this situation evolves and ensure that we can support students in accessing their next steps, whatever these may be.
Ms Burden is keen to emphasise that the grades achieved by the students are well deserved and that the system by which they have been calculated is both fair and rigorous. "It should be understood that these results have been calculated following a process that has included all the information held on students, including coursework, mock examination results, previous performance of students in each subject and a moderation exercise carried out by teachers, heads of department and senior staff. In many ways the outcomes can be seen as even more accurate than those achieved following sitting a particular exam on a particular day as they take so much more evidence into account. Students should therefore be immensely proud of their achievements, we are certainly proud of them."
Although it is difficult to single out individuals for the excellence of their results, as grades alone cannot reflect the progress made by so many, the following are amongst those who have achieved outstandingly well this year: Ayotubokun Aderibigbe (1 x9, 1 x8, 2 x7s, 3 x6s, 1 x5), Adrian Angol-Henry (2x 9s, 4x 8s, 3 x7s, 1x 6), Oliver Fox (2 x9s, 4 x8s, 3 x7s), Spencer Nounke (1x 9, 1 x8, 6 x7s), George Vigeon (1 x9, 3 x8s, 4 x7s, 1 x6), Sydney Chapman (2 x9s, 6 x8s, 1 x6), Oliver Gilbert (1 x8, 7 x7s, 1 x6), Owen Craycraft (2x8s, 4 x7s, 2 x6s), Samuel Dickinson (1 x8, 6 x7s, 1x6, 1 x5), Liam Egan (6 x 8s, 1 x7, 2 x 6s), Millie Stears (3 x9s, 3 x7s, 3 x 6s), Madison Gardner (4 x9s, 1 x8, 1 x7, 1 x6, 2 x5s), Charlie Chung-Yates (3 x8s, 3 x7s, 3 x6s)."