Harrisons Residential Estate Agents Laptop Donation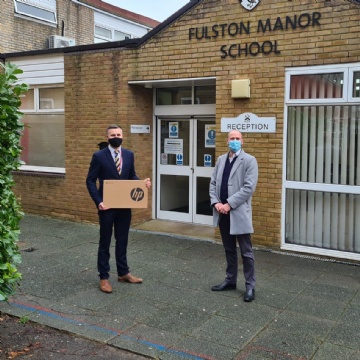 Fulston Manor School were delighted to be offered, and accept, a brand new laptop from Chris Ellis, Managing Director of the Sittingbourne branch of Harrisons Residential Estate Agents. Donating the precious, and much needed, piece of IT equipment Chris said "Harrisons Homes are fully behind the computers for schools campaign which has been led by Stephen Brown of SJB consultancy and Agents Giving (agentsgiving.org). We appreciate that there are some families that cannot provide computer equipment for their child and we wanted to give something back. We have chosen Fulston Manor as a number of students have been employed by Harrisons in the past and present".
Accepting the donation was Mr Graeme Bowden, Deputy Head at Fulston Manor, who commented "We cannot thank Chris, his staff and contacts enough. The laptop will go to one of our students who will be incredibly grateful for this act of generosity – as are we".