Claire Joins Coals and Soles For Charity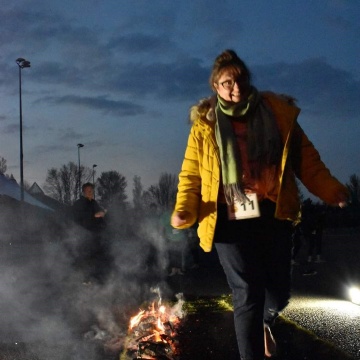 A member of staff Mrs Hadlow, recently took on the challenge of walking across hot coals in aid of Child's Vision. Child's Vision is a charity which helps children who have been affected by domestic abuse and send support workers to visit the children in their own school setting for 1:1 sessions. The students have weekly meetings for up to 8 weeks, making a huge difference to their very troubled lives.
Mrs Hadlow said "This is an amazing charity and the support workers love to see a child progress, from being shy and timid at the beginning of the sessions, to chatting away and feeling good about themselves at the end of the 8th week. I really am proud to have taken part in this event because I know that the money raised, £335.85 from my sponsorship alone, will go towards supporting vulnerable children who just need someone to listen to their troubles and worries".
Mrs Palmer said "Mrs Hadlow is such a valuable member of our cleaning staff and has worked tirelessly throughout the pandemic to keep our site as clean and germ free as possible. To hear that she completed the walk, which she says didn't hurt at all, just proves what a selfless person she is. She told me that it was like walking on bubble wrap and that the walk back over the gravel was far worse!"
To find out more about Child's Vision then please visit www.childsvision.co.uk