Jodi Is Small But Mighty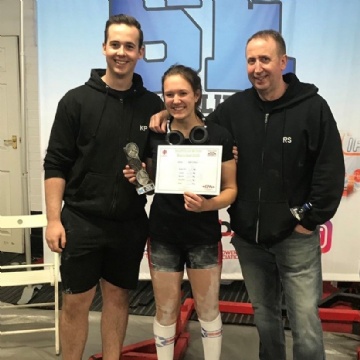 Year 11 student, Jodi Collins, is really going places in the world of powerlifting. Jodi is coached by her sister's boyfriend, Kieron Price and another coach Richard Smith. Jodi said "It was really Kieron who got me into powerlifting and I found that I was pretty good at the sport. Both Kieron and Rich are amazing, and I wouldn't be lifting the weights I am now if it hadn't been for them both".
Jodi has been powerlifting for about three and a half years and it is a sport that she absolutely loves and continues to practice every day. Jodi continued "Powerlifting legends such as Eddie Hall AKA "The Beast", Arnold Schwarzenegger and Stefanie Cohen. Eddie inspired me because of his 500kg dead lift world record he set".
The slightly framed 16-year-old has a number of competitions coming up: The All England Bench Press, The All England's All Three Lifts which will include squat, bench and dead lift and The British Champions. After these competitions, if Jodi has totalled enough then she will hopefully be continuing onto the World Champions which are in either Africa or Sweden later this year.
Kieron and Rich put together her training plans and pushed her to her full potential. Jodi wouldn't be where she is today without the support of her coaches, family and friends. It is evident that Jodi appreciates all the support offered, "My parents are both proud of me, I have had a continuous amount of support from my teachers as well who are always asking me what I have achieved. My friends are proud of me and always wish me good luck before a training session or a big competition. I'm really hoping to join Team GB if I continue to win medals".
Mrs Palmer said "Not only does Jodi power lift, but she also finds time to play football, now playing for the Sittingbourne Ladies team with her sister Abbi, who previously attended Fulston Manor. Jodi was scouted by them when she was playing for Anchorians Halos under 16's team. Now in her first season with Sittingbourne, she is playing in right back defence. It's great to hear that Abbi is also doing really well as she is the Captain of the team and a excellent Captain at that too, so I am led to believe by her very proud sister. One thing is for certain — the Collins girls are talented and focused sportswomen, and we are as proud of them as we could possibly be. We wish Jodi every ounce of luck towards her goal of being selected eventually for the Powerlifting Team GB".