Fulston Manor Wins National Blog Competition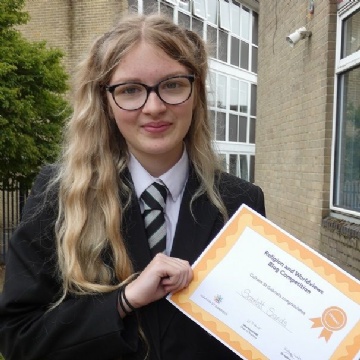 Year 10 student, Scarlett Sands, has overcome stiff competition to win one of the top prizes in the Key Stage 4 category in a national blog contest on the role and significance of an education in Religion and Worldviews.
Over two hundred young people submitted entries to the inaugural school blog competition run by charitable foundation Culham St Gabriel's Trust. Teachers from all school types across the country asked their students why an education in religious and non-religious worldviews matters. 220 pupils from as young as five and up to eighteen years-old entered the contest, which ran from January to March 2021.
Among the blog entries, students cited the role of religious education in helping understand diversity in the modern world and in providing vital preparation for today's complex society. They highlighted respect and empathy as key values the subject encourages, as well as the ability to recognise and stop prejudice and discrimination, adapt to societal changes, and celebrate diversity.
RS teacher, Mrs Borchert, said, "It is encouraging to see students recognise how Religion and Worldviews can help them develop key skills that are transferable to other subjects and to the future workplace, as well as an understanding of, and respect for, different worldviews, both in and outside of the classroom. We really are very proud of what Scarlett has achieved.".
The blogs were judged on criteria such as the ability to make an original or fresh viewpoint, demonstrate a unique and creative writing style, and explain the impact of studying Religion and Worldviews beyond the classroom.
Scarlett, 15, commented "I was really happy to learn that I had won a £20 book token and £50 for my school. I really enjoyed completing the blog and will look forward to reading the other winners entries"
The winning entries are being published on the Culham St Gabriel's Trust website throughout the month of May. A full list of the winners and highly commended entries can be found here:
www.cstg.org.uk/2021/05/04/why-does-an-education-in-religion-and-worldviews-rw-matter