Jessie Pays It Forward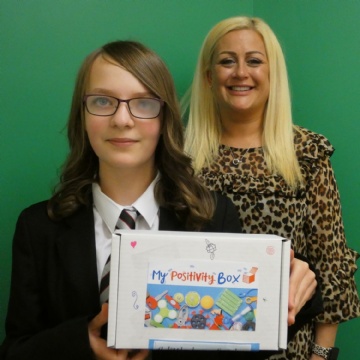 Ever read the book 'Pay It Forward' by Catherine Ryan Hyde? It tells of a story of a young lad who, having received an act of kindness, decides that rather than only thank the person who helped him, he should 'Pay It Forward' and help a random stranger. The pay-it-forward concept tells us that we can make a difference in the lives of others and it glorifies random acts of kindness. It tells us that when someone is kind to us, it's a good idea to repay mankind several times over by doing good things for others.
And so to Jessie Masters, a Year 9 student, who along with many others around the world, struggled with lockdown and it eventually took its toll and Jessie needed help from others. Having received that help, she has now taken on the challenge of helping other students and, together with Miss Caulfeild-Brown has applied for a £300 grant from Headstart. Headstart is a charity which aims to explore and test new ways to improve the mental health and wellbeing of young people aged 10-16 and prevent serious mental health issues from developing.
The plan is to create a number of 'calm boxes' to distribute and use amongst the rest of the school for students who may need just a little help to get through the day. In the boxes students will find items related to the 5 senses;
A chocolate coin or something sweet
A stress reliever
Oil or scent packet
A photo from home
A podcast or mindfulness playlist (from phone)
Also a mini notebook to write positive notes and mindfulness things in
Jessie said, "Lockdown was awful and I missed my family and friends. I really struggled and eventually had to ask for help. I was keen to find a way that I could help others and want to get the word out that help is out there if you ask. I have been asked, and signed up for the school Peer Mentoring service where I will be able to be someone other students can come and talk to me about their worries and concerns. I am really looking forward to that challenge. We will also be able to use the calm boxes to help people where necessary".
Mrs Palmer said "We really are so proud of Jessie. Having been effected by the pandemic in such a negative way, it is wonderful that she is looking to help others now. This really is a massive part of what we would like our students to become – caring compassionate members of our Fulston family. Well done Jessie – keep up the good work".