Teacher Pays It Forward With Amazing Success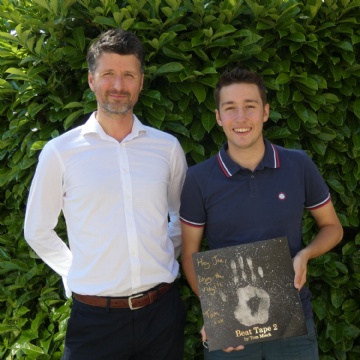 School has been a crazy place over the last year but for one teacher and his student a negative was definitely turned into a positive. Mr Matthews was bed bound with the Covid19 virus and was very poorly last November. One of his GCE students, Joe Knowlton, disarmingly emailed asking after his well being and, over the course of a few weeks, sent across various things to keep Mr Matthews entertained. Mr M said "Joe was so good to have helped me in my recovery. I have taught Joe since Year 10 when he started his English exams and we struck up a connection through the music of Tom Misch who is a major artist. I wondered if I could pull off a good deed during my illness by asking the record label if Misch could send a signed copy of a recently sold-out limited gold vinyl to Joe. It was a long-shot…".
However, it did pay off and the record label PR went to Misch directly and got a vinyl signed especially for Joe. Mr Matthews continued "It arrived in December but I've waited for Joe to finish his studies before passing it on". Joe was, understandably, overwhelmed that a) his teacher had done this for him and b) that he was now holding a signed copy of the vinyl! Joe said "It was an incredibly thoughtful and I think perfect as a gift. I will cherish the vinyl forever".
There is a wonderful quote that epitomizes what we should all be doing in these unprecedented time 'More than qualifications we need kindness. Every person has the power to create happiness and simple acts of generosity can lighten any kind of darkness'