Cousins Represent School And Cadets On Remembrance Sunday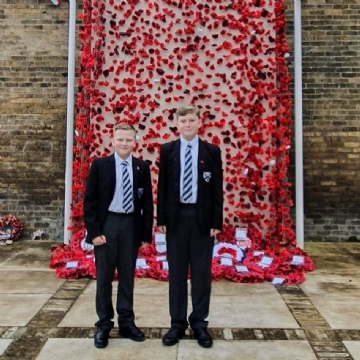 Two cousins Myles Lewer and Samuel Gostling joined together to take part in their first ever Faversham Remembrance Sunday parade. Both boys had joined the Sittingbourne Army Cadets earlier this year and were pleased to be able to march the route alongside the other cadets. Not only were they representing the Army cadets, Cromer House students, Myles and Samuel, wore their school uniforms to represent the school.
Myles said "We really enjoyed taking part in the parade. We felt proud and honoured to have been able to attend as it was such an important event. We are really enjoying cadets and practise marching and hand signals as well as lots of other activities. We will be going away on camp very soon so are looking forward to that". Mrs Palmer said "We are very proud of Myles and Samuel. They looked very smart on the day and represented the school incredibly well".