Fulston Boys Enjoy A Close Battle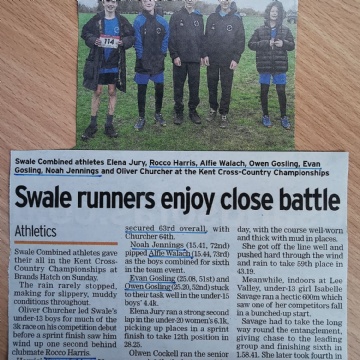 It was wonderful to open the local newspaper and spot five of our students - Rocco Harris, Alfie Walach, Owen and Noah Gosling and Noah Jennings.
On Sunday 9th January Swale Combined athletes gave their all in the Kent Cross-Country Championships at Brands Hatch. Harris' time of 14min 53sec secured top spot in the under 13 3k race and took 63rd overall. Jennings pipped Walach and the boys combined saw them take sixth in the team event. Both the Gosling brothers did well in the U15 boys' 4.4K. We are, of course, proud of them all.
A huge shutout also goes to Heidi Hughes, Year 9, who ran for her club, Medway & Maidstone AC, at the same championships. She came 16th in the under 15 girls race - well done Heidi!