Erasmus Crafts Take Teachers Back To School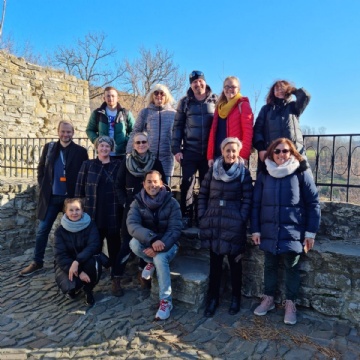 It was lovely to see that the Erasmus project, run by various governments throughout Europe, was still going strong and, together with our partner schools in Spain, The Czech Republic, Lithuania, Estonia and Iceland we are exploring the preservation of local crafts in our countries. The most recent mobility for this project was held in the Czech Republic and Mr Box and Miss Finn were lucky to be able to travel there to take part in the latest project. Sadly, no students could join them this time which dampened the otherwise wonderful experience.
Miss Finn wrote about her experience:
The 5-day mobility involved the exploration of a different local craft every day, travelling in and around the local area of Nový Jičín, where our partner school, Mendelova Střední škola, is based.
Monday and Tuesday were based in the main school, as well as the town centre of Nový Jičín. We experimented with basket weaving and in the case of Mr. Box, managed this with ease! Miss Finn on the other hand, took several attempts to get started. The main aim of the project was to design and create a board game, using the 6 partner countries and their crafts as the main focal point for the game. This also included having to design pieces using TinkerCad, which could then be 3D printed into real parts of the game. The afternoon on Monday was then spent visiting the local hat museum, for which the town is famous for, to decorate miniature hats, as well as trying on some of the pieces exhibited in the museum. Tuesday afternoon was then used to visit a local bakery to attempt mastering the art of creating local signature pastries (as well as sampling a few of them).
Wednesday and Thursday were used to explore the wider surrounding areas, including a visit to a glassworks where students design and create their own pieces and exhibitions. This involved some engraving of pre-made pieces, which of course Mr. Box was a natural at, and another visit to a bakery in Štramberk to see how Štramberk Ears are made, which was finally a task that Miss Finn could manage with ease! On Thursday afternoon there was a visit to Beskydy Pustevny, one of the newest attractions in the area. This is a huge wooden walkway in the mountainous region of the area, reaching over 1000m above sea level. If ever there was a need for a woolly hat, this was it!
Our final day in the area we spent at the closing ceremony for this mobility of the project. This was held in the town hall, where all contributors were presented with a certificate of participation as well as being treated to a musical performance from pupils from Mendelova Střední škola.
Our special thanks go Svatava Olbrechtova and colleagues for hosting the mobility and welcoming all of us to their town and school, especially given the current travel restrictions. We also extend our thanks to the European Parliament in order for Fulston Manor School to enjoy the fruits of the Erasmus Program, learning in adventurous ways both at home and abroad.