Queens College Cambridge Roadshow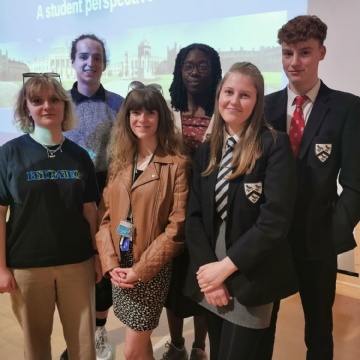 On Friday 4 undergraduate students from Queens College, Cambridge University came to speak to some of our year 11 and 12 students about their life at Cambridge. It was particularly exciting as one of these students was Katherine Halsall who was part of the Fulston family for 7 years and only 4 years ago was sitting in the Millennium Hall listening to a previous roadshow run by Queens which had inspired her to apply to Cambridge. She is now thoroughly enjoying studying geography in her 2nd year at Cambridge University.
Fulston students heard about life at Cambridge – how studying is organised, where students live and the huge range of extracurricular activities on offer. The range of opportunities available to Cambridge students was astounding, although it was 'The Lettuce Eating Club' that particularly intrigued the students!
She said "As a Kentish citizen, the roadshow is a great opportunity to uncover just how accessible and achievable Cambridge University can be for hard-working state school pupils. The best part of the roadshow, however, was being able to visit my old secondary school (Fulston Manor) to present the same talk I had heard from 3 Queens' students 4 years ago! It was like time had never passed. Despite the nervous, excited butterflies in my stomach, I was warmly welcomed and enthusiastically greeted by all of my old A-Level and GCSE teachers, as we took a trip down memory lane to reminisce my academic successes through photographs on corridor display boards. Familiar faces asked me if it 'felt weird to be back' but this was not the case; I felt a sense of comfort and pride, as Fulston provided me with the most supportive and joyful teenage years anyone could have wished for. Once I had finally given the 'applying to Cambridge' presentation with my fellow Queens peers, I received many engaging questions from the audience. Many students stayed behind after the talk to chat to me about my time in Fulston and ask for advice. It was an incredibly warming experience full of nostalgia, making it extremely hard to leave afterwards and not head back into my Year 13 timetabled routine. I look forward to welcoming all the new Queens' freshers into college in October and hopefully inspire many more candidates in our 2023 roadshow.
Katherine was as equally pleased to be back as Fulston staff were to see her. Mrs Palmer said "It was wonderful to see how Katherine is growing as a person and to hear about her successes so far at Cambridge. Katherine was an exceptional Red Tie Prefect in Year 11 and a force to be reckoned with during her time in the 6th Form, picking up many subject prizes at the end of her A Level Course. She hasn't changed one bit and is still the sweet friendly young woman we remember with such fondness"