Buenos Dias Amigo's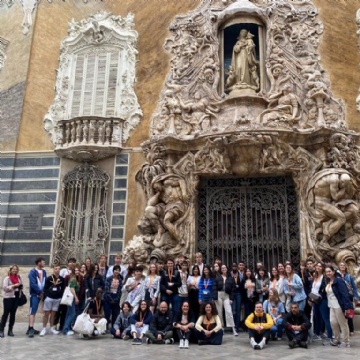 Mr Box and Mrs Smillie met with 6 excited and nervous students at Sittingbourne train station ready to embark on the next leg of the Erasmus+ mobility "Who is knocking on my door 2" on Sunday 1st May. All the students were excited to explore the Spanish city of Valencia and, with sunglasses in hand, made their way to the airport and boarded the plane waving goodbye to the grey skies at Gatwick.
"The beautiful welcome we received when we landed in Valencia was just the tip of the Spanish hospitality iceberg. We had arrived on Workers Day, a national holiday, so explored the muted city but, even with most shops closed, it did not disappoint. We quickly found our bearings, walked along the scenic riverbed park of Jardi del Turia which became our daily route to school and stopped for dinner at a local restaurant.
Upon arrival to Colegio Pio XII school we were all so impressed with the welcome and greeting, the Spanish team put our nervous students at ease immediately and, following the Headmaster's welcome and tour of the school, we were into the activities that included icebreakers and dancing! Following a lunch which boasted an array of traditional Spanish foods we were off on a guided tour of the city. The students embraced the opportunity to learn from the local students and find out about their favourite places to eat as well as the historic sites.
Each day involved school based activities focused on the theme of immigration and integration, including interviewing students and feeding back their group ideas.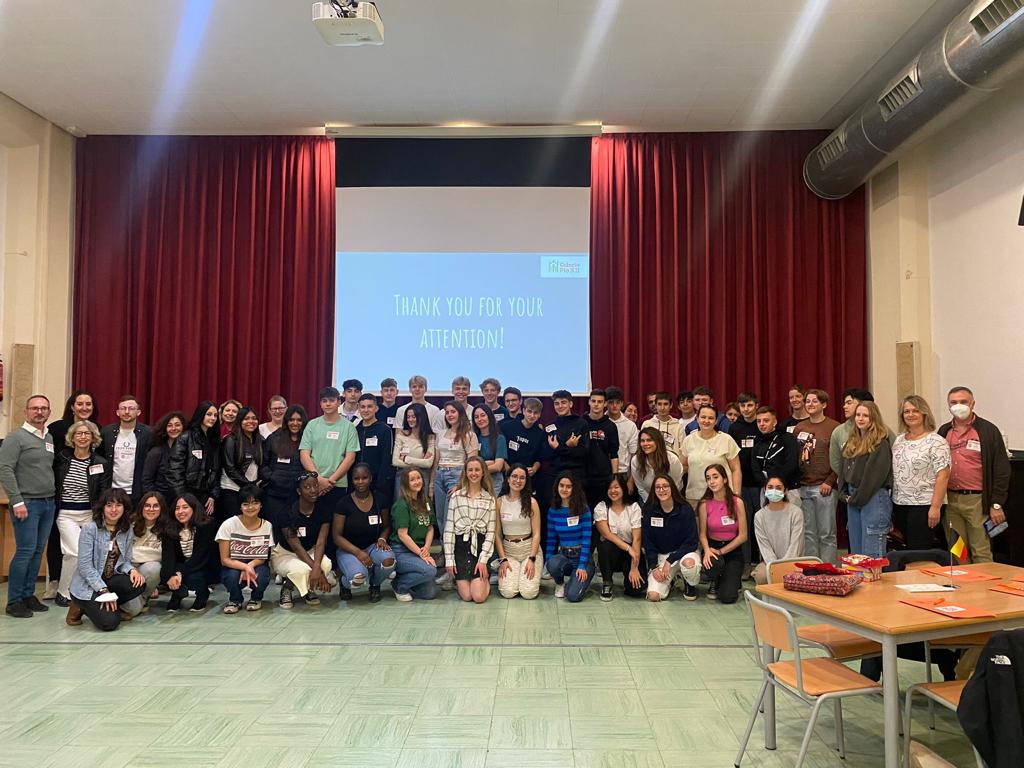 Amongst evenings sampling local cuisine with fellow students, the FMS 6 dodged the rain (mostly) and enjoyed an array of excursions including a tour of the Mestalla football stadium, home of the mighty Valencia team. The famous Ciudad de las Artes y las Ciencias, the museum of Arts and Science, boasted some informative displays to bring awe and wonder to all. This was followed by a trip to the Oceanographic Aquarium which was a real highlight for the students.
Once the sun came out on Thursday we were able to explore more of traditional Valencia with a trip to El Palmar. As well as exploring the rivers and coastline by the water, we were able to sample traditionally made authentic Paella. The final night together was emotional for all the students as they shared their last meal as a group. Social media details were shared and lifetime friendships forged. We waved goodbye and promised to meet again soon.
The students were a credit to the school and embraced all that an Erasmus+ mobility has to offer."
Quotes from Students attending the Erasmus trip:
Our time in Valencia was unreal. I know for definite I will carry what i've learned on with me into the future, being immersed into life in Valencia as a local rather than as a tourist and meeting people from varying cultures and learning from them about their different lifestyles has truly broadened my horizons, it is clear to me there is a wide world outside of England to be explored and I am so grateful to have the chance to learn this from experience.
Maya M
The Erasmus trip will be something that I will never forget. It has helped to open my eyes to another way of life and enriched my understanding of the world. It was such fun to have the chance to make friends and learn with students from other counties and bond with our English classmates and teachers; who gave us the perfect balance of independence and support. I am so grateful to have had this opportunity and will carry my learning forward with me forever.
Rosanna
I am proud to have been part of the Erasmus 2022 trip. I feel honoured that I was able to be part of something special, learning about so many different cultures has made me realise I want to continue travelling to different countries to enjoy their culture and make some more great memories!
Mayo
The Valencia trip was such an amazing and wonderful experiencing. Making new friends across the world and learning about different cultures. I would Love to do another Erasmus if I got the opportunity! And would most definitely encourage others to take up the chance as well. The teachers who accompanied us were amazing, they both made me feel comfortable, made sure I had a good time and got outside my comfort zone. I had a great time and laughed so much on the Valencia trip. I am so grateful to have had this experience, which has sparked my passion for travel even more!
Ruby
I loved every minute of the trip to Valencia, it was amazing to see another corner of the world for myself and gain a better insight into the other cultures of Europe. It has made me want to explore other countries to experience their cultures and inspired me to learn to cook a bit better!
P.S. Mrs Smillie and Mr Box are the 🐐s
Charlie
I had an amazing time on the Erasmus trip and would never pass on the opportunity to attend another, exploring other cultures and meeting new people is a great experience and I have made so many new friends and memories.
Jamie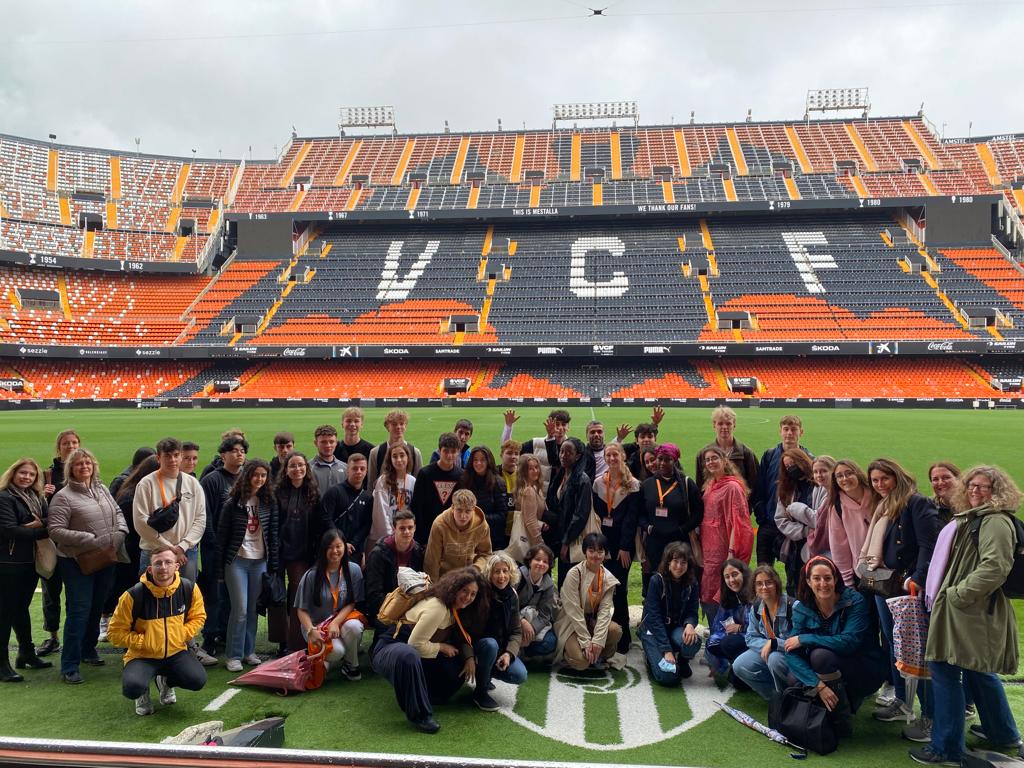 Click here to view the full photo gallery.