Heathers fundraising for PCUK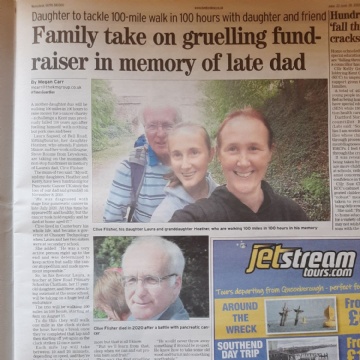 Our wonderful Year 12 student, Heather Sapsed, is preparing to take on a unique, and challenging fundraising event alongside her Mum, Laura. Following their fundraising success last year, they felt they needed to up the challenge, so when a friend of theirs suggested walking 100 miles in 100 hours Heather and Laura agreed! The intrepid two will be starting this challenge on 15th August, with a 1 mile walk, at 8am... we then walk one further mile, on each hour for 100 hours! The final walk will be at 11am on 19th August and they hope to see this challenge through.
The Sittingbourne news have published an article about the challenge, Laura said "We are doing this crazy challenge to raise funds and awareness for Pancreatic Cancer UK, following the loss of my Dad to this cruel disease in November 2020". Mrs Palmer said "Both Kerry, Year 9, and Heather have raised a lot of money so far and we are so proud of them. Having had personal experience of the devastation Pancreatic Cancer can cause we are fully behind promoting this challenge".
If anybody wishes to donate please use this link https://www.justgiving.com/fundraising/Heather-Sapsed1 "