Erasmus Trip to Belgium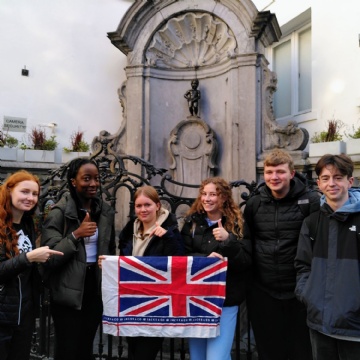 In November, six students from Fulston Manor visited Belgium as part of the Erasmus programme. Here, trip leader, Mr Matthews gives us an insight into their week and all the fantastic opportunities they were afforded...
One year ago, as Covid still dominated global headlines, the prospect of Fulston Manor pupils exploring the world outside the confines of our national borders would have been unthinkable. But thankfully, fate plays a mercurial hand, and this November, 6 intrepid students boarded an early Eurostar bound for the Flemish town of Geel, as Fulston's final Erasmus project 'Who's Knocking at Your Door?' entered its next stage in Belgium.
After hopping from one train to another, scenic Flanders landscapes whizzing by, the group arrived at Geel's main station and were greeting by their host families in what would be another successful chapter in Fulston's portfolio of Erasmus experiences.
With a week ahead promising the cultural delights of Brussels and Antwerp, as well as exploring the program's themes of migration and tolerance, students from all of the project's 6 partners were in for a week of horizon-widening encounters. And for the first time since the pandemic, students were placed in host families, a rare opportunity to soak up local life and customs, an experience no travel agent can provide.
And in a program punctuated by workshops centred on student collaboration, internationally-mixed groups debated European legislation, dramatised the experience of refugees and shared insights into the rapidly changing attitudes towards migration in all the participant countries: Italy, Sweden, Belgium, Turkey, Spain, and the UK.
The extraordinarily diverse population of Geel's Sint Maria School cohort served as a suitable backdrop as students shared the stories of friends and families whose lives had been turned upside down- sometimes voluntarily, sometimes not- as they exchanged their childhood homes for new residences across Europe. Syrian refugees in Sweden and Turkey, West-African exiles in Belgium, Italy and Spain, and migrant workers from across Eastern Europe in the UK: little-by-little, the human face of the media's story-reel began to hit home.
Perhaps it was the deepening chill of Geel's November climate, perhaps the intensity of the workshops, but the week's outings to Belgium's major cities served as a welcome and remedial midweek interlude. Interactive tours of the European Parliament's Museum and Antwerp's Red Star Line Experience foregrounded the role migration- both to and from Europe- has played in shaping our modern world. But as always, the freedom to discover new places lifted everyone's spirits in a way no organised tour could ever manage.
Amidst the morning bustle of Brussel's cobbled squares, students soaked up the capital's signature Flemish architecture and street-art in a city whose identity melds the corporate, glamorous and hip with surprising ease. The obligatory procession of waffles, fries and chocolates kept the sugars and carb levels high, and despite inclement weather (and nearly-missed trains) the outings became opportunities for exploration with newfound friends.
Amazing to think how quickly the pre-trip trepidation of staying with host families melted away! In just a few days the bright forge of friendship cast its warming glow across the 30 or so teens who had set aside their inhibitions to embrace a different world. In a whirl of remarkably efficient international networking, carefully orchestrated TikTok videos and Be Real montages became the flavour of the day as Erasmus' characteristic spell brokered new friendships and opened hearts.
By the week's end the tears were real, the hugs at the train station long and heartfelt. Host families promised our students a home-from-home as new friends conspired to plan future encounters in pursuit of friendship's enticing trail, a trail never truly restricted by national borders. Waving from the train windows as the wheels began to revolve, it all seemed like the closing to some beautiful film.
We would like to thank the staff of Sint Maria, Geel for providing such a wonderful experience and our send our enduring gratitude to the host families who offered such unforgettable hospitality…
Heel erg bedankt!
This is what our students had to say...
"Definitely the most unexpected and enjoyable week ever!"

"The best week ever, for real…I'm so happy to have experienced it…it really was a once in a lifetime opportunity."