Good Luck to our Dancing Girls!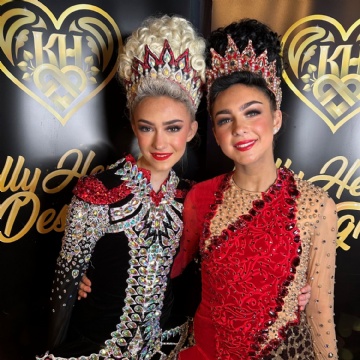 Two of our Cromer students are set to cross the pond and take part in the Irish Dancing World Championships in Montreal, Canada in April. Grace (16) and Ella (14), both dance for the AMDC Arthurs Mason Dance Company. Having qualified the girls will be joining approximately 6000 other international dancers and the competition will be high.
Grace has been dancing since she was 8 and dances three nights a week. She also weight-trains when she has any time spare – all at the same time as studying for her GCSE exams! Grace said "I'm really excited about taking part in the competition and it will be excellent being there with Ella. Preparing for the competition takes time – about 45 minutes to an hour for the makeup and just putting the wig on can take a further half an hour. But it's worth it. When I leave school I'd like to go to University and study Criminology. But who knows, I may end up being part of the wonderful Riverdance instead".
Ella has been dancing for as long as she remembers and is equally excited, "It's a huge opportunity and we are really looking forward to it. It will have been worth all the extra training and strengthening exercises we need to do".
Mrs Palmer said "Ella and Grace are fabulous girls and we wish them both the very best of luck at Easter. We will be waiting to hear how they get on when they start back to school after the holidays".