Where Are They Now?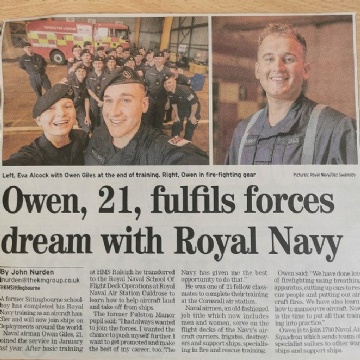 When we saw this newspaper article about one of ex-students we had to give him one of our heartfelt #StudentShoutouts.
Owen Giles, 21, has now completed his Royal Navy training as an aircraft handler and will now join ships on deployments around the world.
Owen said "We have done lots of firefighting using breathing apparatus, cutting up cars to rescue people and putting out aircraft fires. We have also learnt how to manoeuvre aircraft. Now is the time to put all of that training into practice."
Owen is to join 1700 Naval Air Squadron which sends teams of specialist sailors to other warships and support ships.
Well done Owen - we are very proud of you!