Our Year 12 Geographers Visit Whitstable!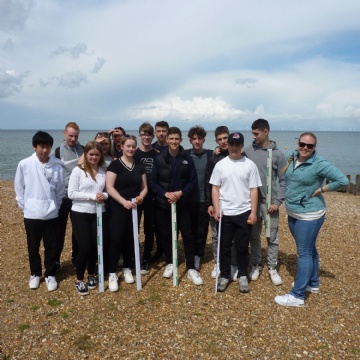 As we returned from our plethora of April bank holidays, we prepared our Year 12 cohort for their annual trip to the coast to complete fieldwork for their A level Geography Course!
This year, we were exceptionally fortunate with the weather, with Miss Finn even experiencing the usual sunburn! We commenced our trip in the school minibus, or as the Year 12 group were present, it was more likened to the 'party bus'. Upon arrival, we walked from Tankerton, along the promenade to our first fieldwork site.
The group embraced data collection and completed this independently in order to fulfil the requirements for their A level course. However, a loose dog did unfortunately have a little wee one of the student's bags that had been left at the top of the beach! (Mrs Palmer and Miss Finn to the rescue!)
Students then got to experience the regeneration of Whitstable Harbour first-hand by enjoying their first break in this area. They were able to explore the new huts, as well as interview some local people about how they felt this regeneration had positively impacted the area.
Some of this data collection involved students conducting interviews with some of the local people and enquire about quality of life in the area. Overwhelmingly, people were friendly and happy to answer questions posed, and fully embraced the opportunity to give their opinions about Whitstable.
This year's Geography cohort fully embraced collecting their own data, as well as finding their own way around the fieldwork site - well done everyone!