Erasmus Trip to Sweeden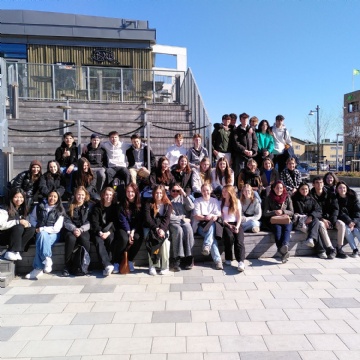 Another term, another adventure…this time to Sweden as 5 lucky Fulston Manor School students took up the Erasmus baton and touched down as the first days of spring blessed Scandinavia's southern regions. Pine forests woke from winter slumbers and rivers, swollen from snow-melt, flowed glacially-cold, taking their icy traffic to the country's west coast.
The last leg of the school's final Erasmus project, 'Who's Knocking at Your Door?' the week in Trollhättan brought together students from 6 nations for one last time following 2 years of collaboration. The project, which dispels the myths surrounding migration in Europe, provides students with rare opportunities to learn in new ways; encountering experts, contesting legislation, and experiencing sometimes shocking encounters with individuals experiencing life behind the headlines. Our hosts, Paradisskolan (Paradise School), well-known in the region for its efforts to integrate a rapidly diversifying population, sits a few miles south of Lake Vanern. With an especially multi-cultural student and staff body, few places could be better suited to the task...
The week would provide a range of cross-curricular workshops, students working in groups to explore the main themes of the project, but also to provide a rare travel opportunity to form new friendships whilst exploring the Götaland region. Museums, Science Expos, Refugee centres and Gotenburg's bustling atmosphere served as backdrop for a new chapter in the lives of those students fortunate to take up the call.
A steady parade of willing host families arrived throughout the Sunday to collect Fulston Manor students. Travel opportunities are fortuitously available to most, but the rare privilege of being hosted is what makes Erasmus the most special of our school residential experiences. From lake visits to forest exploration, local cuisine cooking lessons to shopping-mall hauls...as the week passed by, Sweden's unique 'gästfrihet' became well-known to all as bonds between guests and hosts flourished.
The school opened our eyes to the chequered history of Sweden, from its c19th status as impoverished hinterland to its current incarnation as a world leader in politics and engineering. Talks from local council representatives regarding the turbulent experiences of women travelling from the Horn of Africa- their battles with culturally enforced rituals like FGM- served as a sobering counterpoint to the luxury enjoyed by the project's participants. Yet despite the shocks, stories of Sweden's success with cultural integration won the day, and student discussion groups brought refreshingly humane angles on a topic that polarises opinion. One wonders if the cynics of our world would speak with such vigour having enjoyed the company of our Erasmus hopefuls…
The weather often provides us with handy metaphors, and so the spring-time thaw provided the perfect analogy for our experience. Connections across nations flourished as the coruscating light of spring decorated the waters around Paradisskolan with mood-lifting regularity. In Sweden, sunshine, and social-media connections became the flavour of the day.
By Friday, the sun warming Trollhättan's many esplanades, the time for one last closing ceremony had arrived. This was officially Fulston's last ever Erasmus venture and emotions were complex. Certificates, smiles, cheers and lingering embraces accompanied promises of future summer plans together and itineraries of every kind, from Scandanavia to the Mediterranean, the Balearics to the Bosporus…maps are the blueprints for great memories.
Cross-continental trips taking shape, those lucky enough to enjoy this experience have begun to pursue three simple but beautiful ideas: tolerance, friendship and adventure. Rarely found on any curriculum, every Erasmus student knows their value…a talisman to take from its box and lighten any type of darkness.
After all, it's not about the mileage, it's what you've done with the miles.
Written by Mr Matthews
View the full photo gallery here
Student testimony
'This past week in Sweden has been one of the most amazing trips I have ever been on. It has opened up my mind to many new and interesting topics such as Swedish culture, tradition, history and their refugee system. I have learnt of the many ways refugees, asylum seekers, and migrants can be supported and encouraged to live an independent and fulfilling life. Most importantly, I have learnt first hand of the Swedish people's kindness and generosity, and their welcoming and supportive community. Because of this, myself and many others have been able to form strong friendships that will last a lifetime. These friendships are the foundation to creating many more memories and opportunities for travel. I cannot wait to see these friendships develop and the many adventures we will embark on together.'
On behalf of Fulston Manor School, Mr Matthews would like to thank all of the participants, host families and partner schools for making these opportunities possible for the young people in our care.

In 9 years we have enjoyed 4 international projects with 20 schools in 14 different countries.

80 Fulston Manor Students have been given life-changing travel experiences.

Over 100 visiting students have experienced the same.

We have won national and international awards, enjoyed television appearances in 3 different countries, and received letters of congratulations from the Royal Family and Sir David Attenborough.