Performing Arts Trip To Belgium - Could We Be Any More Proud?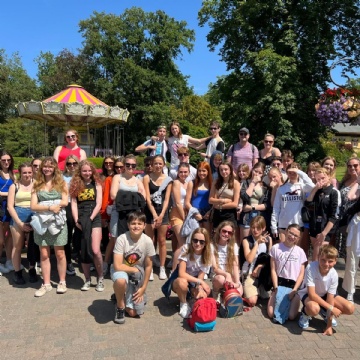 On Saturday 15th July Miss Tarrant, along with three other members of staff and 37 amazingly talented students embarked on a journey of a life time to perform in the beautiful towns of Ostend and Ypres, Belgium, our first tour since 2018.
The weather was wet and grey as they left school, but a few hours and a ferry ride later, they arrived in sunny Belgium and were exploring the beautiful and historical Grote Markt Square in Ypres. With chocolate shops galore the students were certainly not short of enthusiasm and headed back to the coach for their hotel with bags full of gifts for home (we wonder if they actually made it home to family members).
Over the five-day trip, the students performed two concerts to packed crowds in Grote Markt Square in Ypres and in the beautiful bandstand in Wapenplein Oostende.
Strangers danced and clapped and Karis Gous was even recognised the next day by a member of the public!
The group also visited museums, WW1 graves and trenches, more chocolate shops, boarded a stunning river cruise in Brugge and managed to watch the fantastic Menin Gate Ceremony which has taken place every evening at 8pm since 1927.
Miss Tarrant said:
"In all, everyone had an amazing time and the students' behaviour was impeccable. The hotel manager praised our students and I know I speak on behalf of all the staff when I say we couldn't have been more proud".