Gates Continues To Smash Personal Bests!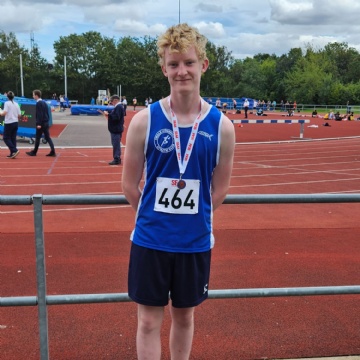 Blake Gates, our very talented Year 10 Stanhope student, competed at the England Athletics U15/U17 Championships in Birmingham recently. He was competing in both hammer and discus and his aim was to come top 10 in both. Blake was over the moon with hammer and threw a new personal best of 42.97meters! This was almost 3 meters further than his previous best. He managed to finish 5th in the competition and was so happy. Placing 5th in a competition which was open to the whole of the UK his parents were so proud of him. This performance also moved him up in the UK rankings and he is now ranked 11th in the UK.
Blake ideally wanted to improve his discus performance after his last trip to Birmingham. He didn't manage to throw a PB but still managed to finish 9th in a very busy competition. He was happy with this as it was better than the previous competition and again he is currently ranked 11th in the UK. This competition was a huge success for Blake and he is excited to end his season on a high. He has offered to enter the Kent relay championships next weekend (10th September) after someone dropped out and he has his Club championships at the end of the month. After this Blakes season will be finished as an U15 but he will be ready to train to move up weight groups as an U17.
We wish Blake every success and will be watching out for future updates.