Final Competition of the Season for Blake!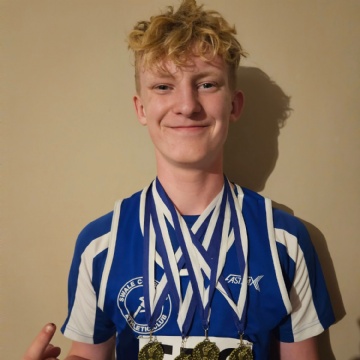 After a very long day of athletics with Swale Combined Athletics Club, Blake absolutely smashed his club championships. He came away with 4 gold medals and gained 3 new PBS/club records.
Hammer came first where Blake threw a huge PB of 46.12m (a 3-metre improvement) which moved him up to 8th in the UK. Shot Put was next, and he threw a massive 12.22m (1.46 metre improvement) which moved him up almost 100 spaces on the UK rankings list. Despite not being happy at Discus, he still threw over 36m. Finally, for Javelin, he threw a new PB of 36.57m which he was very happy with considering he had only thrown it once this season.
From the start of this season in April till now, Blake managed to improve massively in all his events. In Hammer, he gained a huge 8 meters, in Discus he gained 6 meters, Shot Put 2 metres and in Javelin 5 metres. Blake has been very dedicated this year and trained incredibly hard to achieve his goals. He has succeeded in every goal he set for himself this season, and we couldn't be prouder.
This was his final year as an U15 athlete and to finish it as a top 10 UK-ranked athlete, as 8th in the UK, in his favourite event just made everything better. He ends discus as 12th in the UK, Shot Put 37th in the UK (10th in the South East) and Javelin 20th in the South East.
Well done Blake!