Hales House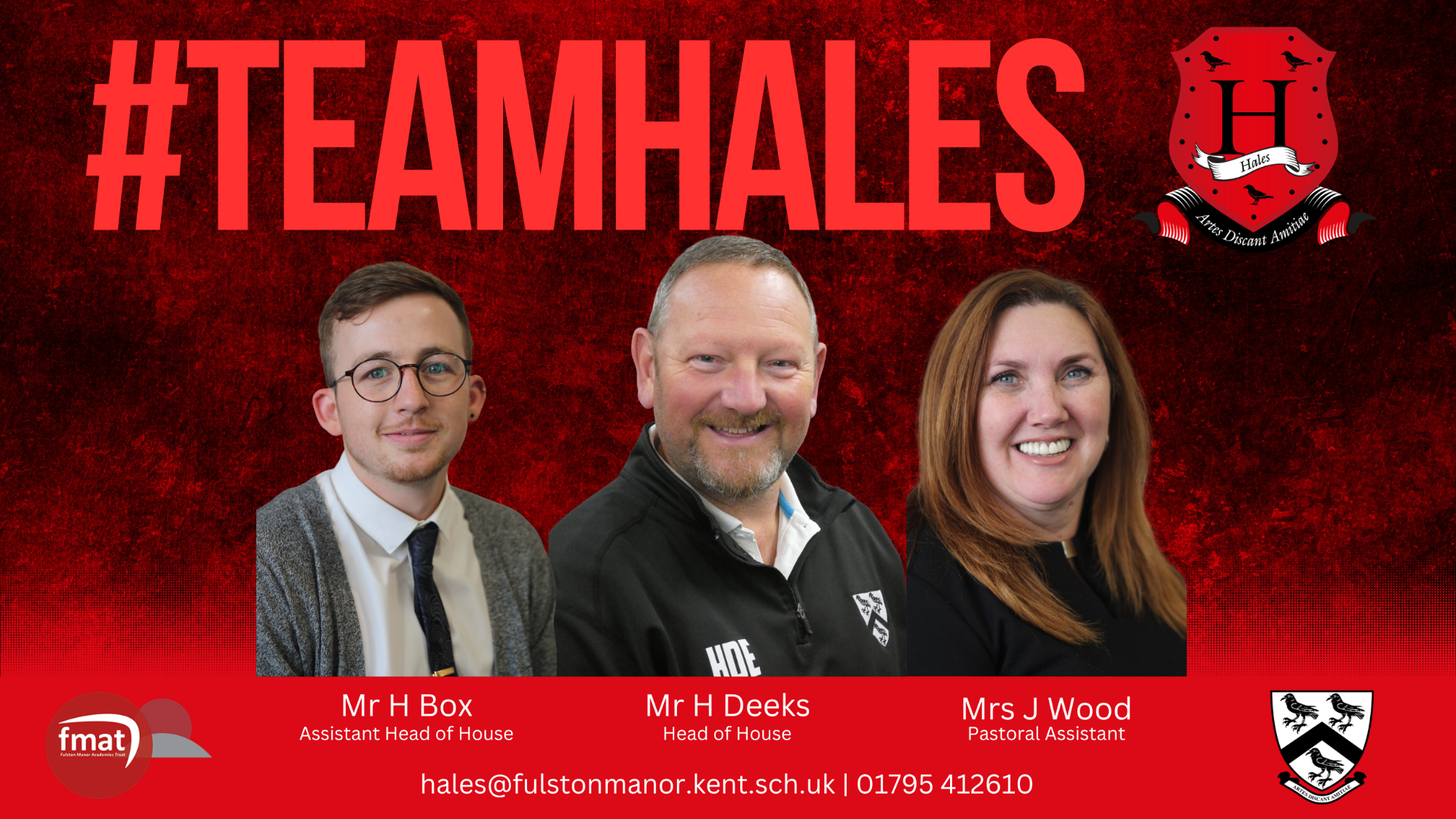 Welcome to Hales House
At Fulston Manor our pastoral care sits alongside the school's academic and extracurricular programme to ensure that every child benefits from a truly holistic experience.
Our guiding principle is that every student is known and valued. This is achieved by creating a very strong support network including Tutors, Pastoral Assistants, Assistant Heads and Head of House; every student having four members of staff directly responsible for their care. The quality of the professional relationship is key; therefore, support is consistent and caters to the individual needs of each and every member of the Fulston Family.
At Fulston, students are extremely proud and loyal to their House and the aim is that for many years to come, there will be healthy and positive competition between our four Houses.
The Hales House Ethos
Support – we ensure we help, encourage and support students and engage in the process of providing them with the necessary skills for life. We understand that an individual can only succeed best by first supporting and helping others succeed.
Team – Hales is a community within the wider community of Fulston Manor School. We help each other, we strive to ensure everyone succeeds and we help each other to the best of our ability. This ensures the team move forward on a positive and fulfilling journey.
Respect – Respect is earned. Honesty is appreciated. Trust is gained and loyalty is returned. In Hales, we respect ourselves, which guides out morals. Giving respect to others guides our manners.
Inspire – We encourage Hales students to look for something positive in every day, even if some days they have to look a bit harder. We encourage students not to go where the path may lead, but to go where there is no path and set a new trail for others to follow.
Value – Hales has the belief that Education is what survives when what has been learned has been forgotten. We strive to ensure that education endures.
Empower – Education is not a tool for development, whether it be as an individual, a community or even a nation. Education is the empowerment to make choices and emboldens our students to chase their dreams.
We pride ourselves on supporting our students throughout their time at Fulston Manor and we feel that a strong relationship between staff, students and parents/carers is important to ensure the best possible pastoral care.