Mathematics
Maths Team
| | |
| --- | --- |
| Mrs F Hall | Director of Maths |
| Mrs R Clements | Subject Leader for Maths |
| Mr S Adjei | Teacher of Mathematics and Key Stage 5 Co-ordinator |
| Mr C Hadler | Teacher of Mathematics and Key Stage 4 Co-ordinator |
| Ms F Karrim | Teacher of Mathematics and Key Stage 3 Co-ordinator |
| Mr F Arthur-Aidoo | Teacher of Mathematics |
| Mr O Badipe | Teacher of Mathematics |
| Mr A Beaumont | Teacher of Mathematics |
| Miss C Kent | Teacher of Mathematics |
| Mrs L Tatton | Teacher of Mathematics and 1 to 1 Teacher |
Our Curriculum Intent
Our aim is to provide students with a deep conceptual understanding of Mathematics. This will then enable them to articulate their learning confidently. A sequence of small steps are used to ensure that content is mastered before moving on. Students will then be able to apply their understanding to problem-solving and develop the independence needed for further study. We emphatically reject the idea that people just 'can't do maths'.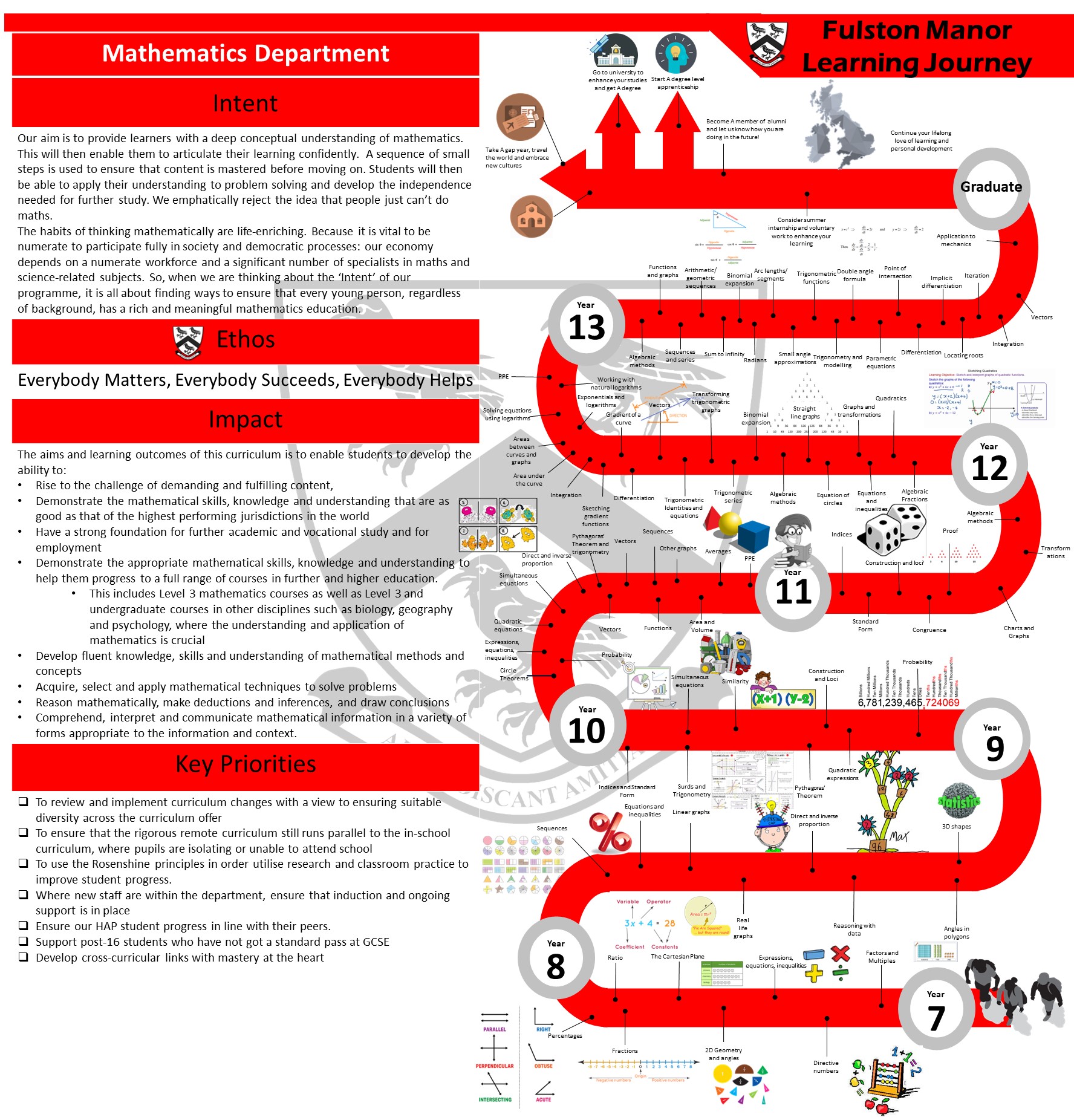 What Will Students Learn In Each Year?
The links below give a detailed breakdown of what is taught in the curriculum for each year.
Key Stage 3
What will my child learn in Year 7?
Term 1

Number System and the Axioms

Term 2

Positive and negative numbers
Expressions, equations and inequalities

Term 3
Term 4
Term 5

Primes, Factors and Multiples
Fractions

Term 6

Ratio and Proportion
Percentages
What will my child learn in Year 8?
Term 1

Equations and Inequalities

Term 2

Linear Graphs
Accuracy and Estimation

Term 3
Term 4

Representations and reasoning with data

Term 5
Term 6
What will my child learn in Year 9?
Term 1
Term 2
Term 3

Construction, congruence and loci of triangles
Pythagoras' Theorem

Term 4

Ratio and Proportion (Review Year 7 and Year 8)
Direct and Inverse Proportion
Surds and Trigonometry Ratios

Term 5
Term 6

Indices and Standard Form
Growth and Decay
Key Stage 4
What will my child learn in Year 10?
Term 1

Angles
Circle Theorems
Probability

Term 2

Expressions, equations and inequalities
Quadratic equations
Simultaneous equations

Term 3

Ratio
Direct and inverse proportion
Pythagoras' Theorem and Trigonometry

Term 4

Tranformations
Vectors
Fractions, decimals, percentages

Term 5

Linear Graphs
Sequences
Functions
Other Graphs

Term 6

Area and volume of 2D and 3D shapes
Averages
What will my child learn in Year 11?
Term 1

Indices and standard form
Constructions, congruence and loci
Proof

Term 2

Charts and graphs
Transformations
Algebraic methods

Term 3

Revision
Exam preparation

Term 4

Revision
Exam preparation

Term 5

Revision
Exam preparation

Term 6
Key Stage 5
What will my child learn in Year 12?
Term 1

Algebra and Functions
Expand and Factorise
Binomial Theorem

Term 2

Dividing Polynomials
Trigonometry
Differentiation

Term 3

Exponentials and logarithms
Vectors
Units and Kinematics

Term 4

Forces
Newton's Laws
Collecting, representing and interpreting data

Term 5

Probability
Binomial Distribution
Hypothesis Testing

Term 6

Proof and Functions
Partial Fractions
Vectors in 3D
What will my child learn in Year 13?
Term 1

Sequences
Binomial Series

Term 2

Trigonometric Identities
Differential Equations
Probability and continuous random variables

Term 3

Numerical Methods
Two-dimensional motion
Motion under gravity and forces

Term 4

Forces
Hypothesis testing

Term 5

Differentiation
Integration
Vectors
Revision
Exam Preparation

Term 6

Revision
Exam Preparation
Accommodation and Resources
The Maths department is located in the N-Block and includes eight classrooms each equipped with a projector and a TV Screen. Some classrooms can be opened up to create a large open space. We have hosted different events in these rooms including revision collaborations with other schools. The department has a set of ipads which are used to access various learning platforms and can be used for research.
Extra Curricular Activities
Revision sessions are run on various afternoons, so students can be given help with a topic they might struggle with, provided with some challenges, or to prepare for examinations.
Examination groups are invited to attend workshops on specific afternoons to help them with revision strategies and fill gaps on their understanding allowing them to achieve the best outcomes in their summer exams.
A Maths Club will be run on a Wednesday lunchtime for students to take part in various activities to broaden their mathematical knowledge and application to problem-solving.
Extended Opportunities For Learning
The Maths Department subscribe to Sparx Maths, an online learning tool which utilises artificial intelligence to pitch the level of the experience in order to stretch and challenge each and every student. The programme has been set in up line with the departments scheme of learning, so all homework consolidates the student's learning in class.