Performances
Winter Concert 2018
On Thursday 29th November, we had a record number of students involved in our annual Winter Concert, reaching over 200 this year. We had an array of performances from the Performing Arts extra-curricular clubs including; Samba Band, Dance Company, Orchestra and Jazz Band, Choir and a choreography by one of our Year 13 students. We also had many other students performing their own ensemble pieces as well as involvement from A-Level Performing Arts and GCSE Dance and Music classes. The Year 10 Music students surprised us with an interesting adaptation of the Ghostbusters theme, played with boom whackers. The students put on a phenomenal evening of performances and demonstrated many talents across the two concerts. Everyone been working on these performances since the beginning of September and have been rehearsing morning, lunch and after school every week. They really did themselves proud and received a huge amount of praise from fellow students, parents and staff. Mrs Marchant also wanted to thank the Year 11, 12 and 13 students who dedicated performances and gifts, before she finishes for maternity leave. I was very moved by their kind words.
Canterbury Festival 2018
On Saturday 14th October, approximately 30 students, along with Mr Bowden and Ms Hadok-Quadrio, gathered in Canterbury to participate in the opening parade for Canterbury Festival. The students were members of Fulston's Samba Band, and have been preparing material since early September in order to wow the crowds gathered along the parade route. The students performed incredibly well, and both Mr Bowden and Ms Hadok-Quadrio received several compliments from members of the public, other performers, and the festival organisers. Ms Hadok-Quadrio said "The students once again did Fulston Manor very proud, and we would like to extend our thanks to them, and to their families, for their participation and support".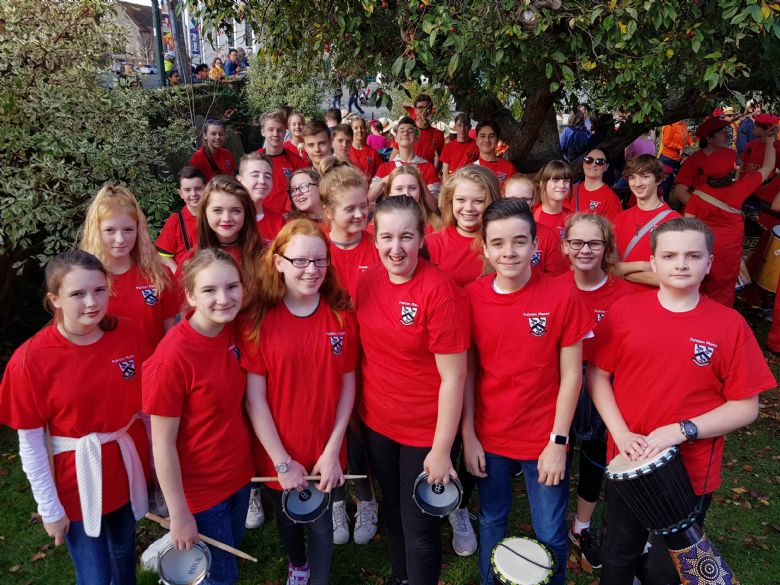 Sister Act
Students put on an excellent show, Sister Act, despite losing so much rehearsal time due to the unprecedented number of snow days, followed by the one day school closure because of the water main problem, which hit large parts of Sittingbourne. Many extra hours of rehearsal time, at one point an additional 6 hours after school, were laid on by staff to ensure the students were 'show' ready. And they did not disappoint. 6th Formers ,Lucy and Alice, took the lead role of Deloris Van Cartier on 15th and 16th March respectively and wowed the audiences together with the rest of the cast. Humour was at the forefront of the performances with some wonderful vocals by every member of the cast. Mrs Marchant, despite being exhausted at the end of the week, praised her students, "Everyone who took part, from sound techs, stage hands and chorus to all of the main characters, worked so hard to put on a terrific performance and I want to thank them all. However, there is no rest for us as we are straight on to preparing for our Spring Concert on Wednesday 28th March!".
Music Tour To Germany
Students have recently returned from an incredibly successful week long Performing Arts tour in Germany. Showcasing every aspect of Performing Arts from singing and dancing to the ever popular Samba Band the group wowed their audiences. Having even made the local rag, Language teacher Mrs Collins translated what had been written. This pretty much sums up the whole experience and the exhausted travellers returned to Old Blighty with another notch to their belts having loved every second.
English Musicians on Tour in Germany Guest Performance:
Students from Fulston Manor School in Kent performed in Das Bad Peterstal "It's going to be loud" teacher Mr Bowden warned visitors to Haus das Bad Peterstal. Due to a rain shower, the guest concert by Fulston Manor School from Kent in Great Britain had to be relocated quickly from the garden into a hall. There, the guests, amongst whom were residents and locals, were looking forward to a mixture of rhythm, music and dance. The performance in Bad Peterstal marked the start of the week-long "Germany Music Tour 2018" by the students and their teachers. Conducted by music teachers Mr Bowden, Miss Hadok-Quadrio (choir) and Mrs Marchant (keyboard & dance), all performances, whether a rhythmic group with a variety of drums or a multivoice choir, were given from memory. The different and sometimes acrobatic dances each had their own choreography telling their own story, at times almost dreamlike, and at others very rhythmically striking. For the students it was a really wonderful experience to perform their programme in front of an unfamiliar audience who rewarded them with great applause.