Year 11
Key Information for Students and Parents/Carers
Where can I find past papers to revise from in Years 10 and 11?
When will the Saturday Morning Revision workshops be taking place?
Year 11 Saturday Morning workshops are not running on Saturday 1st of April, 7th of April or 15th of April due to the Easter break. They will start again on Saturday the 22nd of April until the 20th of May.
These sessions will run from 09:30 – 11:30 am in the Study Zone in the Sixth Form Centre.
When are the Easter Workshops taking place?
Week 1: Monday 3rd April - Thursday 6th April 2023

Week 2: Tuesday 11th April - Friday 14th April 2023

When do the Year 11 subject workshops take place?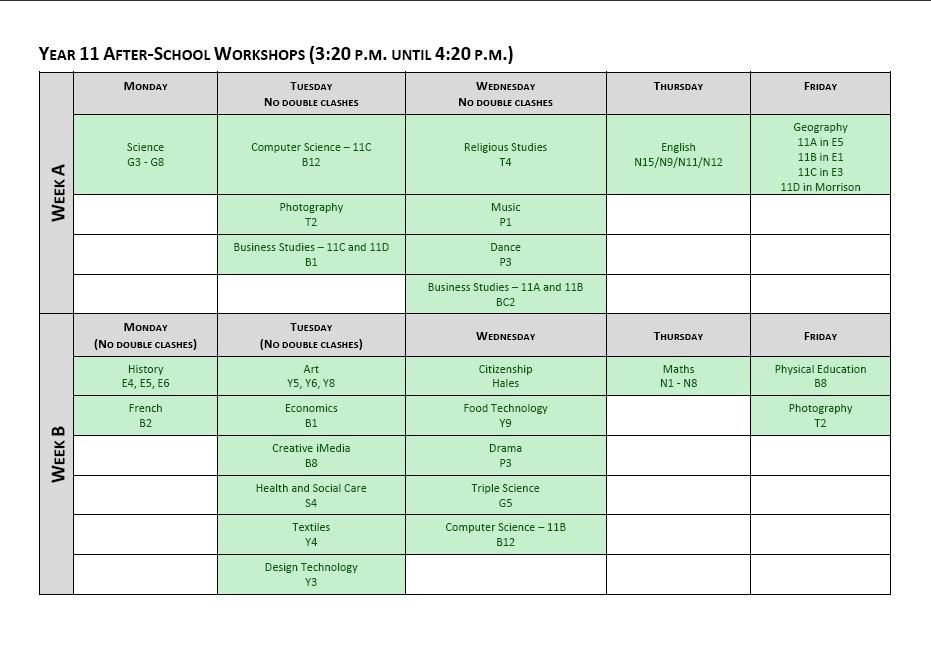 A downloadable and printable version of this timetable is available here
What was discussed at the Year 11 Information Evening?
Our Year 11 Information Evening was held on Thursday 2nd February 2023. If you missed this event, or would like to revisit some of the information shared, you can view the presentation online here:
What are the GCSE revision strategies I can use?
When is Year 11 homework set?
What basics do I need to remember for the exams?
How can my diet help me in my exams?
How to deal with examination stress?
Which apps do subjects recommend to use in Years 10 and 11?
You-tube channel: Planet PE
Edmodo for History
BBC Bitesize – all subjects
Kerboodle – Science
Psychology – Illuminate Revision App
Sociology – Revise sociology
Citizenship – BBC newsround
Maths – Pixl Maths App and Hegarty Maths
Tutor2u – Good for Business and Economics
Photography – Pinterest, Weebly and Canva
Art – Pinterest and YouTube for your art techniques
Geography – Memrise and Quizlet
Revision – Quizlet Flash card maker
Computing – Teach -ICT has all revision materials
Should there be any information that you require that is not on this page please contact Mr Prutton on [email protected]